The Original Custom
Star Map
The most beautiful map of the sky over a moment of your choice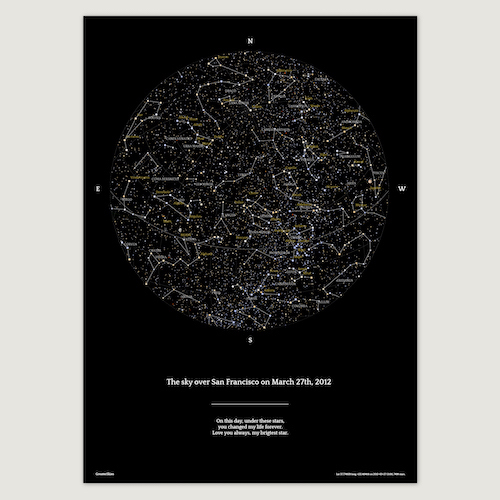 Imagine something that captures your place in the Universe at any point in time?
A custom star map is a detailed map of the sky as it looks from anywhere on Earth, in either the past, present or future.
The sky when they got married, or when she was born. The sky above any moment that you want to commemorate.
Design your star map
The Original Custom Star Map
We are very proud that our carefully crafted maps of the stars are not only the first, but also the most beautiful, accurate and complete.
A cosmic signature of your special occasion, our maps show up to 8,000 stars, each in its precise location. And the planets, the Moon in its right phase, and the Sun when visible. All aligned in a unique way above that particular place, at that particular time.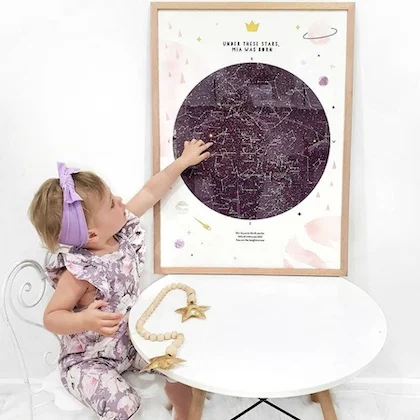 A Stunning Print
If you decide that you want us to print your custom star map for you, we'll do it in top-quality photo paper and UV-resistant inks. We can also frame it if you want. You'll get an amazing print.
Beautiful print that shows immense detail. You even have the option to show star names and constellations or to just leave it at just the stars. Sturdy print with intense color saturation.
Fiona W.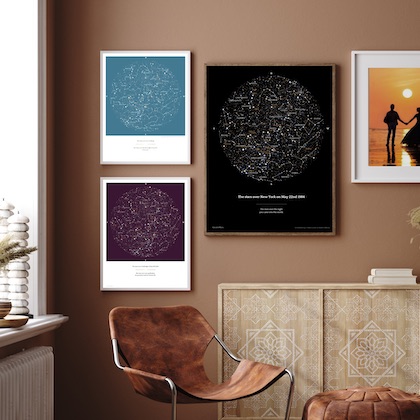 Immediate Download
In a hurry? Choose our exclusive printable file downloads. Within seconds you will receive a link to your high resolution files. Simply download your map and get it printed locally. It's the fastest and most environmentally sustainable option.
I had a look online at other custom "star prints" but none of them really compared. [...] I'm so impressed with the quality and integrity of the image, even with the A1 size printed.
Hannah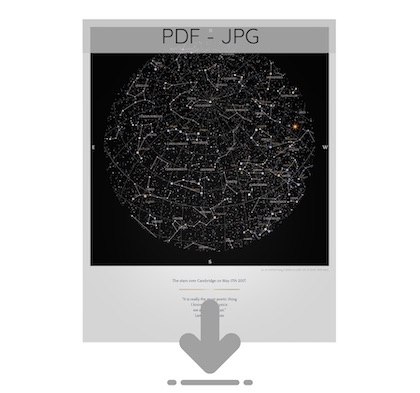 Outstanding Customer Service
We stand behind our products and want to make sure you are 100% satisfied.
So helpful! I made a mistake in my order and they were more than happy to help me fix it!
Alexandra H.
Absolutely stunning! The customer service is just as amazing as the map, too.
Allison L.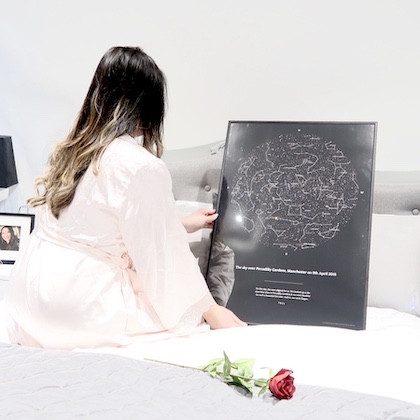 Made near you
We use a large network of Fine Art printers to print your map as close to you as possible
Good delivery time. Product was received with much WOW! Amazing.
Cath - Mornington, Australia
I am very pleased with my order. Fast shipping and amazing service. Thank you so much.
Amy W.