Free Sample Star Maps
We are often asked about the quality of our maps. Are they really so much better than the competition's? How exactly does the download process go, and what do I get? So we decided to give some away for free, so you can judge for yourself. And, as we are at it, we want them to be maps you may want to have.
Our tribute to Stephen Hawking star map has had thousands of downloads, and it has the quality and resolution of all our maps. But it is not a normal design, and so it does not show how exactly our download process works.
The maps in this page, however, are maps as the ones you can buy, and the download page is the same to which you'll be directed after your purchase.
Tell us what you want
Is there a moment that you would like to see commemorated in one of our free maps? Please do tell us. Any event that receives sufficient support will get its free map, promise.
Our sampling of memorable events
Trying to decide what moments to commemorate is incredibly difficult. We have started with three: one marking a turning point in history, one celebrating an amazing woman, and a more light-hearted one about a sports event.
The fall of the Berlin Wall
One of the reasons why people love our maps is that they represent something that they have in common with others: the sky that we share unites us.
So it was not hard to decide on the first historical moment to make a map of: the fall of the Berlin Wall represents, like possibly nothing else in recent history, the breaking down of barriers.
On November 9, 1989 the East Berlin's Communist Party announced a change in their relationship with the West: that midnight, people flooded through the checkpoints.
Please note that I have selected November 10th as the date, not November 9th: this is because the midnight of November 9th is actually 00:00 of November 10th.
And the button above will take you to the download page to which you would be taken after your purchase.
The first Nobel Price of Marie Skłodowska Curie
It was the first Nobel price received by a woman, who also was the first person and to win twice, and the only one who's ever won to Nobel Prices in two different sciences.
Marie Skłodowska has been voted the most inspirational woman in science; as such, she has had a huge impact in the opening up of the world of academia.
Her first Nobel Price was announced in Stockholm on December 10th, 1903. We don't know the exact hour, but we know it was before dinner, so we are going to go for 18:00.
And this is its download page: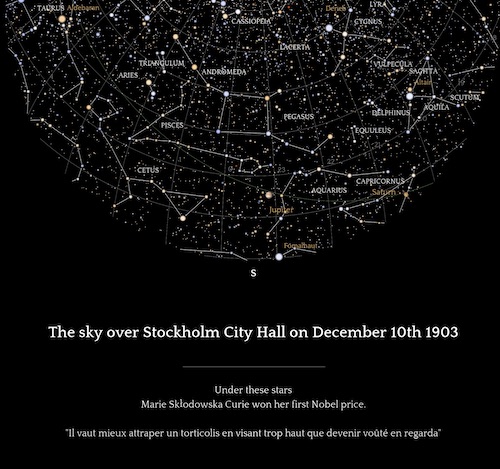 The sky over an unforgetable moment in sports
When we turned for inspiration to Juan's sons, avid Barça supporters, they quickly came back with an idea: the legendary goal scored by Iniesta against Chelsea that won Barça a place at the Roma final that year. They were playing at Stamford Bridge on May 6th 2009.
The most difficult part of making the map was figuring out the exact time... luckily, the BBB knows: at 21:35. We decided on a Night Sky map as the design best suited for the occasion, and we build the map.
After the purchase we are sent to the download page, which we'll share with you:
We hope you'll like it... and, if you happen to be a Chelsea supporter, please send over the moment you'd like the map for. We do want to make ammends.