GreaterSkies Frequently Asked Questions
How quickly will I receive my order?
Downloadable files become available almost immediately, just a few minutes after you complete your order. This is the time it takes for our systems to compute your star map and generate your personalised poster.
This is our best estimation on when you will get your map:
Why are East and West reversed in my map? ⤒
We follow the scientific astronomical tradition and present the sky as you would see it from Earth. Imagine lying on your back looking up, with North above your head. West is on your right and East is on your left, the opposite to what we are used to: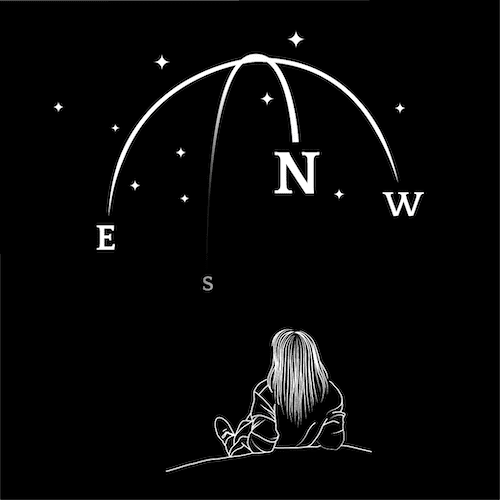 Some star map sites make their maps with East and West as they are on a terrestrial map. People may not question this because it looks familiar. However, this is not how you would see the sky from Earth. These star maps are flipped, in the same way that this world map has been flipped: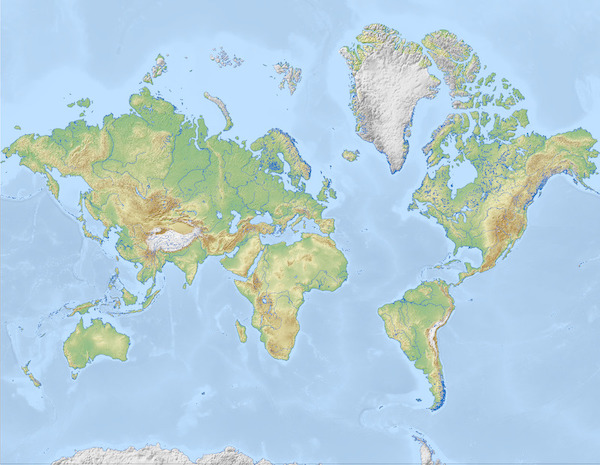 How do you do decide where to cut off the sky at the edges or how much of the sky is shown on a map? ⤒
We cut our sky maps at the horizon line. The map shows all the stars visible above that the place you have chosen at that moment you have chosen, so a complete half sphere. The map does not display the other half sphere (hidden in real life), i.e. the view from the exact antipode.
In real life, we rarely see the whole celestial vault above our heads, because mountains, buildings, trees and other objects which constitute the skyline obstruct the view near the horizon line. Our maps display the view you would have if you were on a boat in the middle of the ocean, with the horizon line visible all around you.
What does the grid that starts at Polaris mean and is it essential to reading the sky? ⤒
The grid that starts near Polaris, better known as the North Star, shows the celestial coordinates, right ascension and declination. They are not essential to the map, but they help build the impression of the three dimensional half-sphere that it represents. Here is a nice explanation of what it means exactly.
Is the sky on your maps exactly as it would be if I were standing outside looking upwards from the location? ⤒
The grid coordinates are the celestial coordinates (like latitude and longitude but in the sky), and the whole thing (coordinates and stars) is shown as if you were standing outside looking upwards from that given location.
This being a map of the sky, there is nowhere in it where you would be; the center of the circle is the point of the sky that would be right above you.
What printed map sizes are available? ⤒
GreaterSkies map come in different sizes. These are not just scaled down versions of the larger size, we redesign each of them to make sure they will look best in each size.
If you order a printed sky map poster you will have a choice of sizes:
12x16" — 30x40 cm
16x20" — 40x50 cm
20x28" — 50x70 cm
24x36" — 60x90 cm
These are standard sizes, and it frames are available for them in most places.
You can also choose to receive your sky map print framed or unframed.
What downloadable map sizes are available? ⤒
Once you have confirmed your order you will get to the download page, where you can select the size(s) you want to download. We offer 10 available sizes in both metric and imperial/standard dimensions:
5 Imperial sizes: 5x7", 8.5x11" (letter), 11x14", 16x20", 18x24" and 24x36".
5 Metric sizes: 21x29.7cm (A4), 24x30cm, 30x40cm, 40x50cm and 50x70cm.
Our files sizes fit most standard frames, so it will be easy for you to find a frame you like. Still, if you have a particular frame in mind, we suggest checking the frame size before selecting the download file size.
Each sky map has its own unique beautiful page.
Do GreaterSkies star maps show the constellations from above, as if you were looking down from space, or as they would appear if you looked up to the sky? ⤒
Our sky maps show the sky as you would see it looking up at the celestial vault, with a twist: you are facing north, so the West (W) appears on your right and the East (E) on your left. This is the way astronomy charts are made. Conversely, land maps show West on the left side and East on the right.
How do I know that my map is correct? ⤒
Our maps are correct; we have been making them since 2006, and we are a favourite resource for professional astronomers — not that they need them to do their job, but they also like to have beautiful renditions of the sky that mark special moments.
But of course we understand that you may want to check; the easiest way is to compare the preview, which we will compute for you as part of the map design process, with one of the apps that astronomers use like In the sky.
Are other site's maps correct? ⤒
We don't know. We do know that at least one of them renders the East and West in the same place that you would do in a terrestial map, so their maps do not show the sky as you would see it —you cannot see the sky like that.
You may find our comparison with other maps helpful.
Was this of help? If you don't find the answer to your question, do not hesitate to contact us.